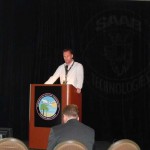 Chris Kilgour, CEO and owner of C&L Aerospace of Brisbane Australia and its subsidiary C&L Aviation Services (CLAS) of Bangor Maine, will speak at the biannual Global Saab 340 Operators' Conference on Wednesday October 6 in Clearwater Florida. More than 300 attendees are expected including aviation operators, suppliers, vendors, and attendees from the various business units of Saab AB from more than 25 countries. C&L Aerospace is a Platinum-Level Sponsor of the conference, the highest level available. Kilgour has a long-term and vested interest in the continued success of the Saab 340 program and is a major player in the support of the aircraft.
Kilgour will offer an overview of the CLAS facility which is an FAA and EASA 145 certified repair station servicing regional aircraft with extensive experience working on the Saab 340 aircraft. The facility is located at the Bangor International Airport with a runway of more than 2 miles on the major air corridor between Europe and the East Coast of the United States. The CLAS facility has more than 40,000 square feet of hangars, component shop, warehouse, and offices.
Kilgour recently organized a deal between Finnish regional aircraft leasing specialist Alandia Air AB and GE Engine Services to purchase GE's entire short-term CT7-5 and CT7-9 engine lease pool, consisting of some 20 engines and seven propeller gearboxes. The inventory was added to the already extensive inventory at C&L Aviation Services warehouse in Bangor.
"We will be managing the entire pool on Alandia's behalf," says Kilgour. "As such, all of GE's CT7 customers will now be relying on this pool for their short-term leasing requirements."
CLAS is committed to the regional aircraft market, most particularly the Saab 340. The Bangor facility is capable of delivering all heavy checks, structural repairs, interior refurbishment, avionics modifications, propeller maintenance, parking and storage, and services.