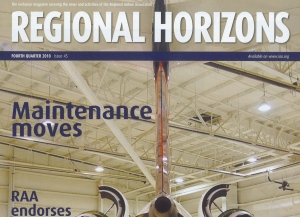 C&L Aviation Services (CLAS) CEO Chris Kilgour has taken over the former Telford Aviation Services in Bangor Maine, and the business is growing. The company recently received attention from Regional Horizons magazine, the publication representing the Regional Airline Association. The Fourth Quarter 2010 issue offers an article covering the changing landscape of regional airline maintenance and describes recent growth experienced by CLAS.
"Our workforce is expanding, which allows us to offer our customers a full spectrum of aircraft technical services and interiors support and an outstanding facility, all at an uncongested airport in easy proximity to Europe and the States," says Kilgour.
CLAS has the capability to repair structural items such as flight controls, flaps, leading edges, panels, and air stairs on regional aircraft such as the Saab 340, Dash 8 (including Q400), CRJ and ERJ. The company also performs NDT inspections including eddy current, ultrasound, florescent penetrant, and X-ray.
In spite of financial challenges for US passenger airlines in recent years, MRO companies focused on regional aircraft such as CLAS are adding to their facilities and capabilities as demand for services is increasing. Kilgour says, "No job is too large or too small."