C&L and Securaplane Technologies Develop STC for Sealed Lead Acid Battery.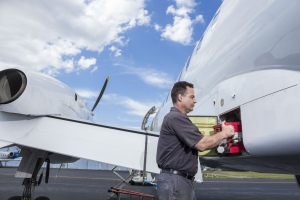 BANGOR, Maine – C&L Aerospace is pleased to announce, in partnership with Securaplane Technologies, a Meggitt PLC Company, a Supplemental Type Certificate (STC) for the Securaplane Sealed Lead Acid (SLA) Batteries for Saab 340 aircraft. In conjunction with the STC, Securaplane and C&L have entered into an agreement that designates C&L as the worldwide Saab 340 Securaplane SLA Mainship battery distributor. The non-hazardous SLA batteries are a maintenance free battery, as they can directly replace existing Ni-cad batteries and offer superior hot and cold weather performance and the ability to recover from deep discharge.
"This product is going to be great for our customers," said Martin Cooper, Vice President of Sales for C&L Aerospace. "There are significant cost savings in maintenance, shipping, installation, and operation with this battery. This partnership is a great testament to our commitment to help Saab operators keep their costs down."
C&L Aerospace, a division of C&L Aviation Group, has been in the aviation spare parts business since 1994 and has built its successful model from the knowledge that a "one-size-fits-all" approach does not suit most operators. The addition of the SLA battery further extends C&L's ability to support customers with their unique needs and individual requirements anywhere in the world.
Securaplane, a Meggitt company since 2011, provides a complete range of power, motion, and security devices for aerospace. Their products are installed by major aircraft manufacturers including AgustaWestland, Airbus, Boeing, Bombardier, Cessna, Dassault, Embraer, Gulfstream, Hawker Beechcraft, and Sikorsky.
Headquartered in the UK, Meggitt PLC is a global engineering group specializing in extreme environment components and smart sub-systems for aerospace, defense, and energy markets.