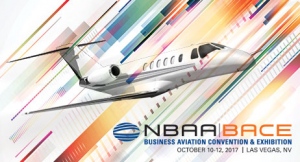 Why NBAA-BACE?
NBAA-BACE is the sixth biggest trade show in the country, bringing together more than 27,000 professionals, 1,100 exhibitors and 100 static displays from the business aviation industry. Exhibitor categories include everything from Aircraft Brokers and FBOs to Flight Training Services, Lighting, MROs and Travel Services.
When and where is NBAA-BACE?
The 2017 NBAA Business Aviation Convention & Exhibition will take place October 10-12 at the Las Vegas Convention Center.
What are the hours of NBAA-BACE?
The exhibition floor at the convention center will be open 10 a.m. – 6 p.m. on Tuesday, 9 a.m. – 5 p.m. on Wednesday, and 9 a.m. – 4 p.m. on Thursday.
Static displays at Henderson Executive Airport will be open 9 a.m. – 6 p.m. on Tuesday, 9 a.m. – 5 p.m. on Wednesday, and 0 a.m. – 3 p.m. on Thursday.
Where should I fly in for NBAA-BACE?
Private airplanes can fly into Henderson Executive Airport (HND), just 18 miles south of the convention center. Reservations should be made on the HND website. Fuel, oxygen, lavatory, water, catering and taxi services are available at the HND. NBAA-BACE will also run shuttles between the airport and the convention center every 15 minutes during the following hours: Tuesday, 8 a.m. – 7 p.m.; Wednesday 8 a.m. – 6 p.m.; Thursday, 8 a.m. – 4 p.m.
Where should I stay for NBAA-BACE?
Many hotels in the area have special rates and rooms blocked for convention-goers. The closest of these to the convention center are Wynn Las Vegas, Encore at Wynn, and Treasure Island. Most of the NBAA-BACE hotels will also offer shuttle services beginning one and a half hours before the show starts each day and ending one hour after the show's closing.
What should I wear to NBAA-BACE?
NBAA-BACE is a professional event and requires business attire. For a small fee, coat and bag checks are available at the Convention Center.
Should I bring my family to Las Vegas for NBAA-BACE?
The Las Vegas are is a great place to bring the family (see our list of shows here), and with enough advance-planning, you can build sight-seeing into your itinerary. There are even discount tickets to Cirque de Soleil available for conference attendees. However, children under the age of 12 are not permitted on the exhibit floor or at the static displays at the executive airport. Children who are 12-17 years-old are required to register and purchase a ticket.
How should I plan ahead for NBAA-BACE?
NBAA-BACE is a great opportunity to make connections in the corporate aviation industry. Browse the registered exhibitors and static displays beforehand and make a list of your top 10 "Must Sees." Below each one, list 1-2 goals you have for visiting that booth. Your list will keep you focused. Then print out a copy of the exhibition floor map, circle the companies and representatives you want to see, and determine in which order you will visit them.

Will there be time to socialize at NBAA-BACE?
There is plenty of time to make connections (and after-show plans) on the exhibition floor while you network with people in the industry. However, NBAA has also set aside Wednesday night, Oct. 11 from 6 to 8 p.m., for a special cocktail reception and live and silent auction event called "Fund an Angel." Money raised at the event will benefit the Corporate Angle Network (CAN), which helps organize non-emergency air transportation between hospitals for cancer patients. Attire for the event is "business" or "cocktail."
How do I register for NBAA-BACE?
Visit the NBAA event page to register to attend NBAA-BACE in Las Vegas this October.