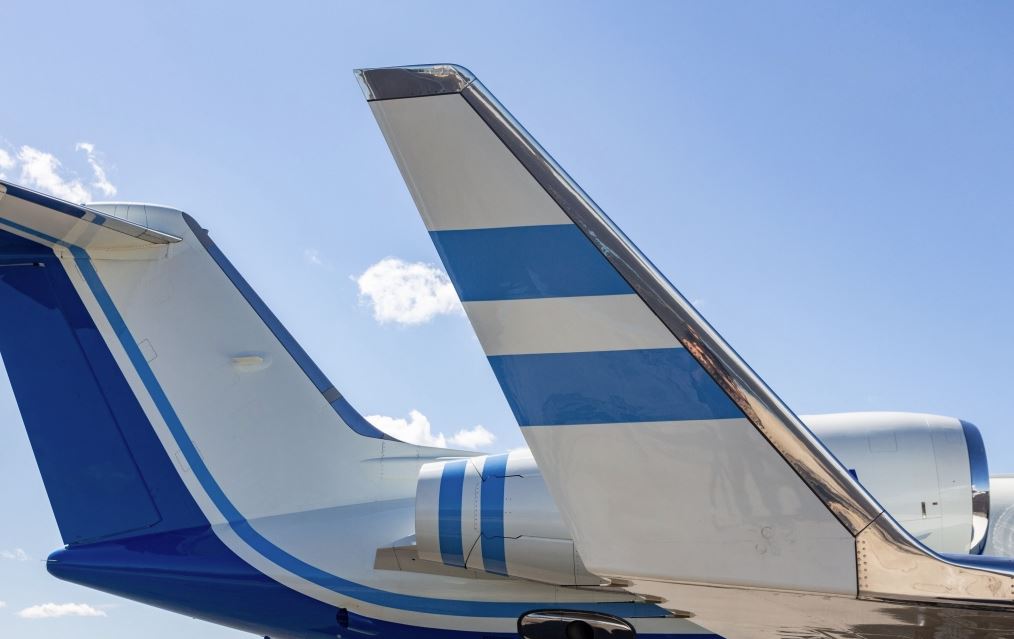 The number one question we get asked when it comes to painting a private jet is: how much is it going to cost?
Here at C&L, we've been painting private jets for years, ranging from Hawkers and BeechJets to Gulfstreams and Falcons, so we know many factors that go into the overall costs. These factors include the size of the aircraft, different custom paint options, and complexity of the design.
In addition to questions about costs, aircraft owners usually want to know what their paint options are, how long the process will take, and whether now is the right time to paint their aircraft (and if you're reading this article, you probably have these questions, too).
What Determines the Price and Downtime?
The cost of a standard paint scheme and the amount of downtime varies depending on the size of the aircraft. For example, a light jet, such as a BeechJet 400, would range in price from $65,900 to $84,500 and take from 4 to 5 weeks. Meanwhile, a midsize jet, like a Hawker 800XP, would range in price from $87,000 to $125,000 and take 5 to 6 weeks, and a super-midsize jet, such as a Legacy 600, would range from $153,900 to $180,900 and take 7 to 8 weeks.
(Please note that these prices are for the most basic standard services. Overall prices may increase depending on the customizable options that you choose. The painting guide below includes costs for the standard scheme and select add-on options.)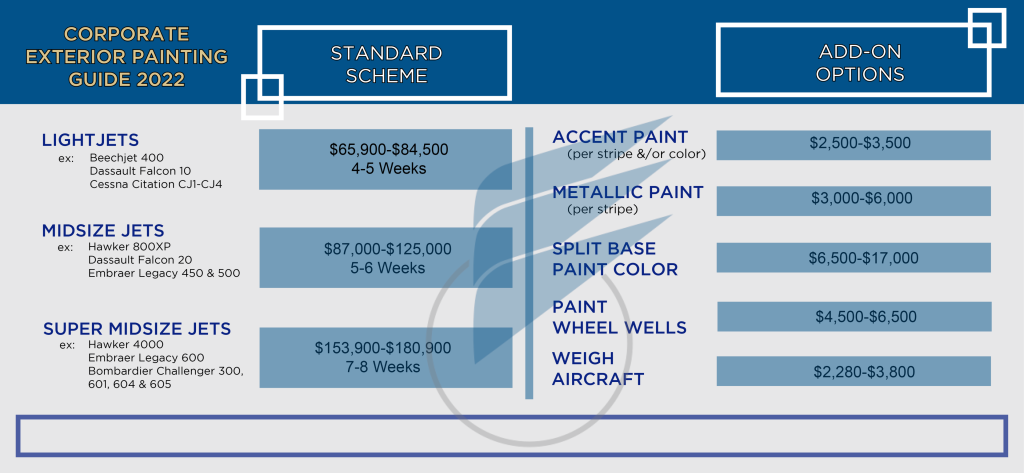 What Would Make the Painting Take Longer?
A paint scheme that has multiple accent colors, stripes, logos, or decals will require more time than an aircraft with only a few colors. For instance, to paint a single stripe one color, all other areas of the aircraft would have to be masked (covered). This process is repeated each time a stripe is painted in another color with a wait time in between coats for the paint to dry.
Read more: "What Is the Process for Painting a Private Jet?"
What are My Paint Options?
Standard Paint Scheme: $65,900-$180,900/4-8 Weeks
The paint facility may offer you a standard paint scheme that you can customize. Depending on what is covered in the standard paint scheme (different paint facilities may vary in their options), you can decide what colors and design you want for the basecoat, registration number, and stripes.
Throughout this article, we define a standard paint scheme as a single-color basecoat with 3 stripes in 2 colors.
Customizable Additions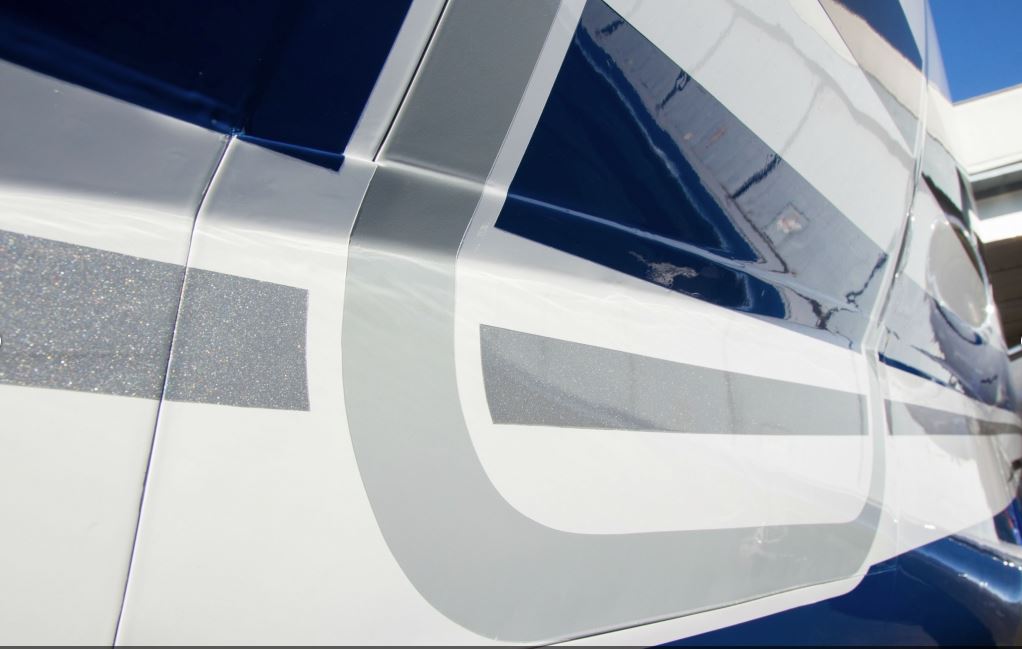 There are options that can be added to the price of the standard paint scheme. While options may vary depending on the paint facility's capabilities, some options include:
Accent paint ($2,500-$3,500 per stripe and/or color)

Accent paint is used for additional stripes and colors – beyond what is included in the standard paint scheme.

Metallic Paint ($3,000-$6,000 per stripe)

Other available special effects paint options may include mica (pearl-like sheen), and chameleon (appears to change color in different lighting).

Split-base paint scheme ($6,500-$17,000)

A split-base paint scheme is when one color is used for the top of the fuselage while another is used for the underside.

Flags, company logos or crests, and other decorative images (price is dependent on the image).
What are Some Other Add-on Options?
The paint facility may offer other services when an aircraft is being painted. While these other considerations may vary by paint facility, we list a few common options here.
Corrosion Protection for Specific Areas
You might consider getting less visible areas painted as well to protect them from corrosion. These areas include the interior of engine cowlings, gear wells, flap wells, and wheel wells. (Cost to paint wheel wells for the main gear and nose gear ranges from $4,500-$6,500.)
You can ask a paint professional whether these areas should be painted as these areas generally require less protection than other areas on the aircraft. These areas can be painted without having to wait until the next time the aircraft is repainted.
Registration Number Change
A registration number change may be requested (or required by aviation regulations) if an aircraft is to be flown in a different country than where it originally came from. It may also be changed if the aircraft is under new ownership or if the owner wants a unique number (e.g., includes initials or significant numbers).
Weighing the Aircraft
Weighing the aircraft after painting is required only in certain situations, depending on how the aircraft is operated within certain aviation regulations. Weight and balance must be within certain limits to maintain airworthiness.
You may want to have the aircraft weighed, even when it is not required. If the aircraft has not been weighed in a while (e.g., after several maintenance jobs), you may request that the aircraft be weighed to learn the accurate weight. (Cost of weighing aircraft ranges from $2,280-$3,800.)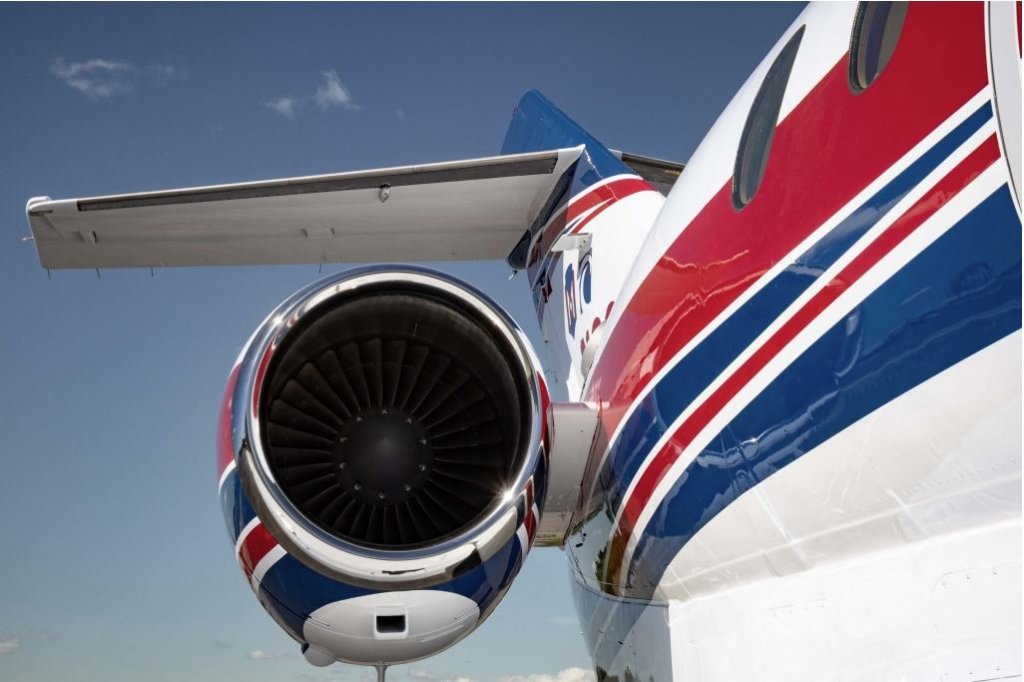 Why Should I Get My Private Aircraft Painted Anyway?
Corporate aircraft need to be painted every 5-10 years to protect the aircraft against corrosion. An aircraft's paint may get chipped during maintenance or from regular wear and tear, making the airframe susceptible to corrosion. Additionally, the paint may lose its luster due to ultraviolet light.
Corrosion (deterioration of metal surfaces) and other damage to the aircraft may be hidden by existing paint and not visible without stripping the paint from the entire aircraft. Regularly having the aircraft stripped and repainted is necessary for addressing underlying issues and maintaining airworthiness.
Ensuring Quality
Now that you know what options are available and the approximate costs, you may still be wondering how you can ensure that you will be receiving quality work at a paint facility. Below are a few questions you might want to ask when having your aircraft painted:
Does the paint facility have a designer to help create a paint scheme?
Can the paint facility repair underlying issues on the aircraft, such as corrosion?
Does the quote for the paint job include a full chemical strip (i.e., removing all old paint), or does it only cover sanding (i.e., removing blemishes and repainting)?
Does the quote include a high-build primer?
Does the quote include a clear coat?
Does the quote include painting the interiors of engine cowlings, gear wells, flap wells, and/or wheel wells?
What paint manufacturer does the paint facility use? Will they use other manufacturers by request?
Does the paint facility offer a warranty for the paint job? If so, does it cover the entire aircraft or only some areas? How long is the warranty valid? (The typical length of an aircraft paint warranty is 2-3 years or 1500 flight hours, whichever comes first.)
Is the paint hangar climate controlled?
Does the paint facility weigh the aircraft when completed?
Want to know more about painting your private jet? Check out this video!
For More Information, Please Fill Out the Form Below