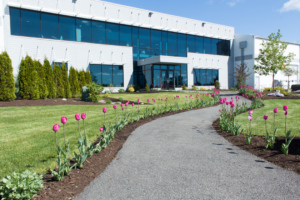 Plans include adding a 40,000 sq. ft. hangar, facility upgrades, and 100 more jobs.
BANGOR, Maine – C&L is pleased to announce a new, $3-million-dollar expansion to its facility in Bangor. The project, supported in part by a $1.2 million grant from the United States Economic Development Administration that was recently awarded to the City of Bangor, will refurbish a newly leased hangar, add two new buildings, increase capabilities and create 100 additional jobs over the next 2 years.
This next phase of growth will add to C&L's corporate interiors capabilities, a quickly growing market for the company, with a newly refurbished interior hangar. Environmental efficiencies will be added throughout the facility, and the increased hangar space and new storage buildings will allow C&L to service more aircraft at once, delivering on its promise to get clients back in the air on time and on budget.
"Our company is always growing," said C&L CEO Chris Kilgour. "This funding and the upcoming expansion will help fuel more growth, and we are grateful to the City of Bangor and our state's congressional leadership for their continued support."
Maine's congressional delegation was critical in securing the EDA funding, and C&L's close relationship with the City of Bangor has been beneficial to both the company and the surrounding area through multiple endeavors over the past several years.
In 2014, C&L completed a $5-million expansion that tripled the company's space and included a 17,000 square-foot paint hangar. That expansion was also partially funded by a grant from the EDA and it allowed C&L to move into new markets such as interior refurbishments for executive jets.
***
C&L Aviation Group is an industry leader in servicing, maintaining and supporting operators in the corporate and regional aviation industry. In addition to aircraft and engine sales and leasing programs, C&L offers parts support, heavy maintenance, interior refurbishment, aircraft teardown, disassembly services, and aircraft management. C&L is headquartered in Bangor, Maine, with international offices in Australia and Europe. www.cla.aero.